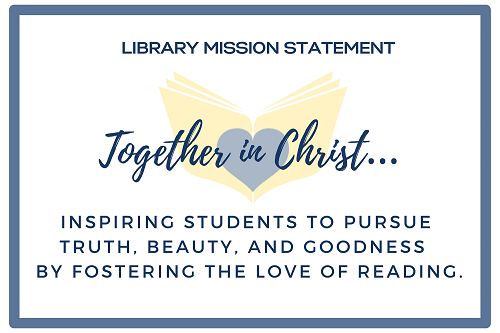 Christ Lutheran School's library is designed to be a well-ordered environment that facilitates genuine learning. Our goal is to provide rich resources for the benefit of each student's spiritual, intellectual, and emotional development. These resources, will support the school's dedication to a classical curriculum, as well as the cultivation of wisdom and virtue in each student as befitting a follower of Jesus Christ.
Volunteers are what make our library work!  From repairing books to checking out student's books weekly, our volunteers are what keep the library running.
Our collection of books for grades K-8 has been made possible through the generosity of parents, grandparents, friends & family of CLS. 
Looking for a way to help? See the opportunities below.
BIRTHDAY BOOK CLUB
Participants will come to the library on a scheduled day near their birthday (or 1/2 birthday) to select their book.

Each student will have their picture taken with his/her book and have it displayed.

Your child's name will be placed on a bookplate inside the cover of their selection.

Your child will be the first to check out the book for two weeks.

After two weeks, the student will return the book to the library so others may check it out.

Sign up occurs yearly July 15th – August 31st
DONATE
Your monetary donation helps to replace well-loved books, maintain & make repairs as well as add new books to our shelves.